Vetiver essential oil feels persistent and unapologetic. Some people love it at first sniff but, to me, it's an in-your-face kind of aroma that insists you:
Get grounded in your purpose

Move from a place that's rooted in authenticity
Take responsibility for your life choices
Vetiver essential oil demands that you dig deep into your true self and examine the stuff that's inhibiting your growth. Like, which of your thoughts and beliefs need uprooting? And which of your strengths need more nourishment and exposure to light? Truth be told, I'm not always ready for that kind of action or accountability.
A Floral Lover's Attempt to Get Rooted
I definitely wasn't ready for Vetiver when I rubbed a couple of diluted drops onto the back of my neck for the first time. I'd become so habituated to the gentle emotional comfort of florals like Lavender, Geranium, and Neroli. I mean, florals feel like… Ahhh… soft caresses to my soul. But Vetiver felt like it was chasing me down the streets of New York City screaming "You betta git yo life together, girl!". He felt like the enemy trying to force me out of comfy complacency and demand that I live fearlessly in my truth. He insisted upon my confidence! But fear made me doubt my intuition; paralyzing me into a state of limbo and uncertainty. 
However, that annoying little voice inside my head that told me that if I could find a way to make our relationship work, I could possibly benefit from Vetiver's grounding and positive energy. After all, I was in the midst of a big life transition that left me feeling anxious. But I knew that spending more time with Vetiver would require a buffer. Perhaps another base note to muffle his overbearing voice. BOOM, Patchouli! I know, I know, people often have the same reaction to Patchouli that I do to Vetiver. I, on the other hand, love Patchouli in all of her complexity and earthy-crunchy goodness. She's sexy!
So my intention behind blending Vetiver EO with Patchouli EO was to feel their grounding support as I faced my truth, dared to trust my intuition, and began walking fearlessly in the direction of my dreams. Let me know how this blend resonates with you!
"Truth Serum" Massage Oil Blend
1oz Jojoba Wax aka Jojoba Oil
6 drops Vetiver, Vetiveria zizanioides
6 drops Patchouli, Pogostemon cablin
Into a 1oz Amber Glass Jar, add the Jojoba Wax + the 12 drops of essential oils. Roll the bottle vigorously between open palms to blend. Massage generously into your skin and SOAK™ in your truth.
SOAK™ in the Science of Vetiver
Name: Vetiver, Vetiveria zizanoides
Countries of Origin: Reunion, Comoro, Java
Botanical Family: Poaceae (Gramineae)
Part Used: roots
Aroma: earthy, woody, smokey, warm, resinous, sweet
Blends Well With: other base notes like Patchouli and Sandalwood or florals such as Lavender, Neroli, Geranium, Rose, Jasmine and Ylang Ylang.
Energetic Properties:
grounds you in your true self
emotionally centering
relaxes an overactive mind
relieves stress, anxiety, & nervous tension
supports insomnia & depression
Therapeutic Properties:
anti-inflammatory
anti-infectious
anti-fungal
calms the Central Nervous System
cooling
immune support
skin healing
Chemical Profile:  sesquiterpenes, sesquiterpenols, ketones
Safety Data: non-toxic, non-irritating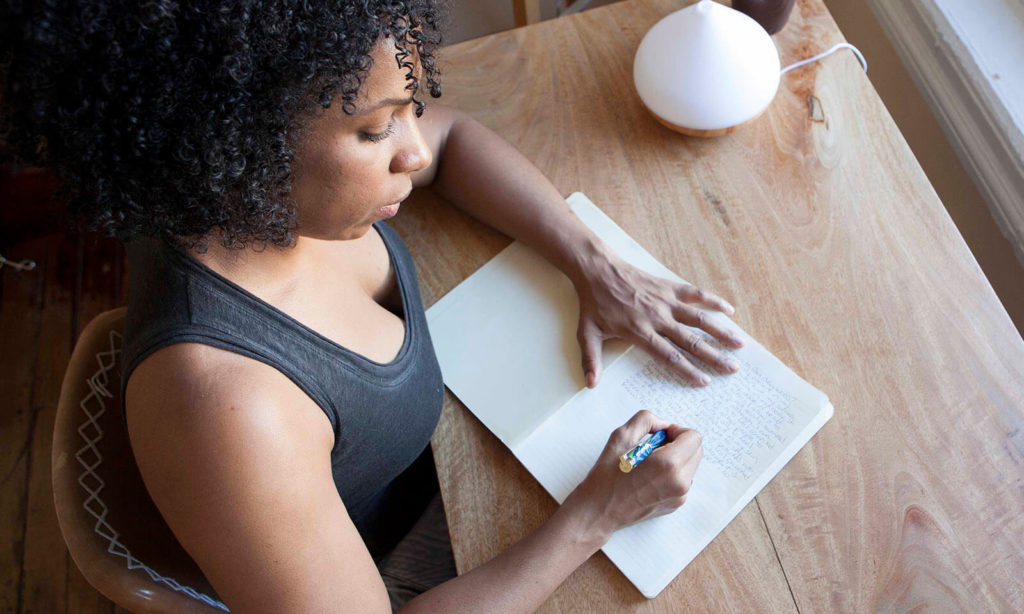 Subscribe to get my Sunday newsletter, Contrology Freak™️ Chronicles for self-care tips & free classes.